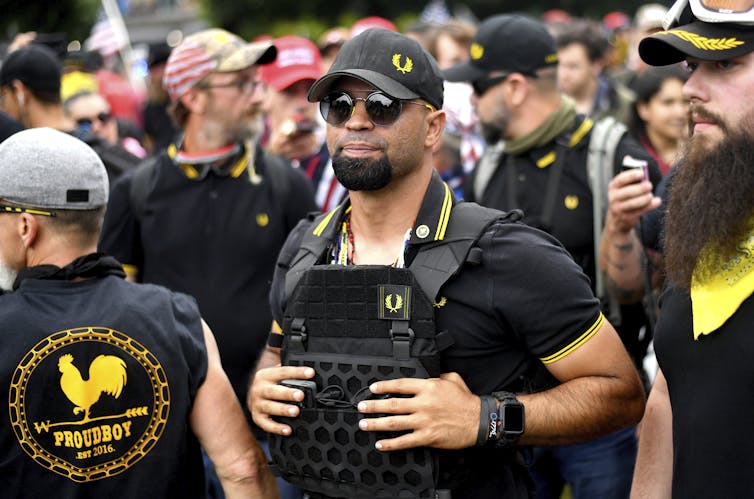 Jeff Inglis, The Conversation
Four members of the right-wing extremist group called the Proud Boys were convicted on May 4, 2023, on charges of seditious conspiracy and other charges in connection with their efforts to lead an attack on the U.S. Capitol on Jan. 6, 2021. Those convicted include the group's former leader, Enrique Tarrio.
Several scholars have written for The Conversation U.S. about the group, its ideologies and other elements of the right-wing extremist push for white nationalism. Here we spotlight three examples from our archives.
1. Who are the Proud Boys and what do they want?
"Proud Boys have identified themselves as 'Western chauvinists' who focus on opposing political correctness and white guilt. But these claims have generally been seen as cover for deeper racist and antisemitic sentiments," wrote criminology scholars Matthew Valasik at the University of Alabama and Shannon Reid at the University of North Carolina at Charlotte.
"[T]he more committed members of these and other extreme right-wing groups believe that the U.S. government, as currently constituted, is illegitimate and should be overthrown and replaced with one that is based on white supremacy," they wrote.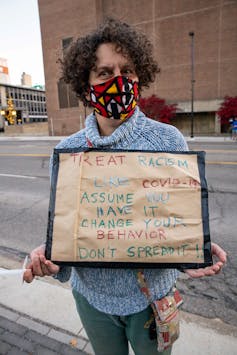 2. Proud Boys are just one example of systemic racism
"Many Proud Boys reject the label 'white supremacist,' arguing their aim is to 'save America' and to defend 'Western values,'" wrote Ursula Moffitt, who was a postdoctoral fellow in psychology at Northwestern University but is now on the faculty of Wheaton College.
But, she explained, "[w]hite supremacy was itself a longstanding Western value. And white people don't have to be white supremacists to benefit from the ways it still shapes American society."
In fact, Moffitt wrote, "the privileges afforded to whiteness are so much a part of the structure of U.S. society that many white people don't even notice them. … [A]lthough racism is often seen only as prejudiced beliefs and behaviors – as embodied by the Proud Boys and other such groups – it is better defined as a system of advantage based on race."
3. The challenge of reintegrating extremists into society
It's not clear what will happen if the four Proud Boys members convicted on May 4, or others facing their own charges in the wake of the Jan. 6 insurrection, go to jail – or what society will do with them when they're eventually released.
"[N]either the national security agencies nor the Department of Justice's Bureau of Prisons has seriously considered how to handle extremist inmates while they serve their sentences, nor how to offer them a road to reintegration with the country they attacked, or planned to," wrote John Horgan, a psychologist at Georgia State University.
Horgan recommended creating "deradicalization efforts to address the increasingly diverse population of homegrown terrorists, [which] could include psychological counseling and restorative justice."
Editor's note: This story is a roundup of articles from The Conversation's archives.

Jeff Inglis, Freelance Editor, The Conversation
This article is republished from The Conversation under a Creative Commons license. Read the original article.